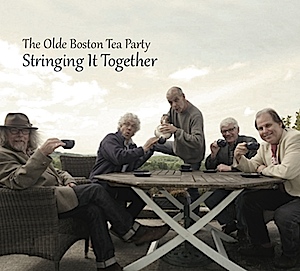 Listen to Stringing It Together
Stringing It Together
This is the second album by The Olde Boston Tea Party and includes many of the numbers we currently perform together with a few new songs I have written. The band has existed under this name for more than five years, but we have only recently been joined by banjo player, Johnny Butten. Johnny holds the distinction of being the official Guinness Book of Records world's fastest banjo player. He used to be part of a bluegrass band called "Three Tuns o' Grass", which included double bass player David Hatfield and mandolinist Jeremy Cozens. He then went to work as a session player in America before joining rock/bluegrass band, Hayseed Dixie, with whom he is still associated. He is one of those very rare musicians who can impress on just about any stringed instrument.

I am delighted to have co-produced this album with Ed Bersey at his excellent Sylvafield Studio in Dorset (www.sylafield.com). As a song-writer, I have always tried to put the song first and that has led me to making four albums in Nashville. There is no doubt that, with the help of Nashville producer, Mark Moseley, I have been introduced to some of the world's finest bluegrass and country musicians, but I felt it was high time I made an album with my regular gigging band and that is what this is. It is not as polished as a Nashville production, but it is fair representation of how we sound in a live performance and in that sense it has plenty of character. Unlike "Back Across the Water" (the first OBTP album), there are no "guest musicians" and the songs are not confined to ones written by me. Also the lead vocals are shared with David Hatfield, as they are when we play gigs, with harmony vocals by Jeremy Cozens and Pete Orgill.

My previous albums have encompassed folk, bluegrass, country and a few other styles. This album, which features double bass, guitar, mandolin, fiddle, banjo is fairly and squarely a bluegrass album. When so many pubs gave given up booking bands and so many other gig venues are struggling, I hope those who have the responsibility to book bands will consider booking The Olde Boston Tea Party. It is always a good evening!
– Charlie Boston